COLORFUL PEOPLE
Colorful People is a czech-slovak multigenre band, who met at Jaroslav Ježek Conservatory in Prague. Their passion for latin-american music brought them to Brazil. They were awarded a full scholarship at Institute of Music called "Escola de Choro Raphael Rabello" in Brasília. After studies in 2013, they performed in Brazil, Perú and Bolívia.
Finalists of slovak jazz competition Jazz Start Up 2014
In 2016, they participated together with students and alumnis of Berklee College of Music at a concert of czech rockstar Petr Janda in Red Room, Boston, USA.
In 2018, they performed as soloists their original music along with famous bossa-novas by Antonio Carlos Jobim together with South Czech Filharmonic in Metropol, České Budějovice.
In 2019, they appeared on stage with broadway star and finalist of America's got Talent Moya Angela (USA), at her unique concert on main square in Bratislava, Slovakia.
Later in December 2019, they performed together with Piarissimo choir in New York and Boston, USA.
In June 2021, they released a debut album (EP) "Reflections vol.1", which reflects their musical journey, inspiration and combines pop and soul with world music. The album is now available on Spotify, Apple Music and other streaming platforms.
They present their work at concerts and festivals not only in the Czech Republic and Slovakia, but also abroad. They performed at the FiftyLab festival in Brussels, Belgium, then at the United Islands of Prague, Krásný Ztráty live, Metronome Prague, Karlovy Vary International Film Festival, South Bohemian Jazz Festival, International Music Festival Český Krumlov, Brasil Fest Brno, Soundtrack Festival Poděbrady and many others…
At the very special prague's club Doupě, they supported jazz and soul music world stars such as outstanding singer and drummer Jamison Ross (USA) or phenomenal double bass player and composer Avishai Cohen (Israel)
Soon an acoustic album called "16/16/16" is coming out! It will bring their unique arrangements of the hits by famous singers such as Sting, Rihanna, Justin Timberlake, Lionel Richie, Joss Stone, John Mayer and others.

Lenka Novotná
singer, musician and songwriter
Born in České Budějovice, after graduating from Jaroslav Ježek Conservatory in Prague (musical specialization), Lenka studied percussion at the Institute of traditional Brazilian music called 'Escola de Choro Raphael Rabello'in Brasília from 2012 to 2013. Lenka has been engaged in domestic and foreign music projects as a singer, percussionist, bass guitarist, composer and lyricist, presenting world music in cooperation with Avishai Cohen (Israel),Rene Trossman (United States), Femi Temowo (United Kingdom), Di Stéffano (Brazil), Santiago Ferreira (Brazil), Jerry Ogbe Cooper (Nigeria),Adam Tvrdý (CZ), Doctor Victor (CZ), Elis Mraz and Dalibor Mraz (CZ). She sang the blues duet "I still think about you baby" released on the album "I'm on a roll" from 2012 in collaboration with a Chicago guitarist and producer Rene Trossman. In December 2011, Lenka's voice also appeared on the album "A new day" by a Slovak jazz guitarist Robert Rovina. She sang his song "Maybe" together with Dušan Mark, the frontman of a Czech band Support Lesbians. An original song worth noting is "Eu não vou" composed together with Juraj during trips in Brazil and Bolivia. In the autumn of 2018, she collaborated as a vocalist with Support Lesbiens on their latest album "Glow".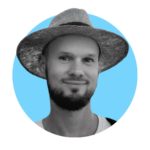 Juraj Holoda
musician, composer and bandleader
Multigenre guitarist, pianist, singer, songwriter, arranger and producer originally from Trenčín, Slovakia. Juraj studied guitar and percussion at the Institute of traditional Brazilian music called 'Escola de Choro Raphael Rabello' in Brasília in 2012/2013. Earlier, he graduated jazz guitar specialization at Jaroslav Ježek Conservatory in Prague. As a guitarist, he has participated in many international music projects. He's collaborated with a former broadway singer Moya Angela (USA), guitarist, songwriter and singer Shahab Tolouie (Iran), singer Jerry "Ogbe" Cooper (Nigeria), drummer Di Stéffano (Brazil), bass player Josias Pedrosa (Brazil), producer and musician Ismael Fonte (Brazil), czech rockstar Petr Janda (CZ), Martin Valihora, Juraj Griglák, Eugen Vizvári, Michal Bugala (SK) and many others... He has also worked as an arranger and producer for both domestic and international artists. He is the bandleader and manager of the Colorful People.
Dušan Marko
singer, songwriter, percussionist
is a Czech-Slovak singer, songwriter and multi-instrumentalist. He started making music professionally on a big scale in the autumn of 2017 as the frontman of the music group "Support Lesbiens", with which he released the album "Glow" in 2018. In 2019, he made his solo debut under the artistic name "Marco" with the singles "Last Party", "Waiting" and "From House to Home". Later on he released the album "Giving Me Life" under the label Baracca Records. In addition to performing with Support Lesbiens and a solo career, Dušan Marko has been working on the "Michael Jackson Symphony" project since 2017, with which he performs throughout the Czech Republic, accompanied by various symphony orchestras. Since 2015, he has been a stable member of the music group "Colorful People", with which he has performed in Boston, USA, and Montreal, Canada.
Why are we Colorful People?
"We perceive music in a different way. We talk our own way; we say brightly colored. We travel across musical genres as we understand that each style expresses certain feelings, moods, emotions, that are not immutable. And because (as humans) we are not monotonous, the music we create reflects it. Music and dance are for us connected vessels, interacting with each other, so that one simply cannot exist without the other. From movement and rhythm rises melody, which is further harmonized, and thus creates music. Studying music at the other end of the world has clarified this natural phenomenon. Staying in Rio de Janeiro during the carnival was one of our strongest experiences."
"Every song we write is based on our personal experiences in the infinite space of endless stories of a life."
Author texts written by Juraj, Lenka and Dušan either by themselves or with the help of lyricists such as Lumír Slabý, Vašo Michalčík, Santiago Ferreira, Nicol Schmidt, Emma Williams and Lex Hefner are interpreted in English, Czech, Slovak and occasionally in Portuguese.
"As musical nomads, we have been traveling the world and life together for quite a few years. We make our living with music while traveling the world."